Artist Statement
I use the natural shapes of logs and branches not only as a foundation for my sculptures, but also as a point of departure. From here, my work is an exploration of the hidden, illusionary aspect of nature. My aim is to make one stop and question what they are viewing; to reveal that all is not what it may seem.
Biography
Gary was born and raised surrounded by the lush farmlands and wild forests of Vermont. In his early years he would be found crisscrossing the fields and wandering up and down the mountains. Being the life long wanderer, he of course never did well with regimentation or the status quo. He would instead follow his strong creative drive. Over time he found his creativity was best expressed through working with wood in its natural state. He would spend the summers of his youth in the woods behind his home building small "forts" out of trees he would fell with a hatchet. As a young adult he would take this even further and build a log cabin in the woods. Eventually this evolved into his own style of natural form furnishings.
But, always needing a challenge, he felt the need to take his creativity even further. Starting in 2008, over a two-year period and after much trial and error, he developed the designs and techniques for his new sculptures. Using a unique combination of organic properties synthesized with distinct form he has created sculptures he calls bio-geometric.
Born of aspen logs and branches that he personally selects and cuts in the northern mountains of Colorado, each sculpture is created one at a time. Like a living plant each sculpture appears to be grown branch by branch, from a primitive nature into a refined geometric shape.
What is exceptionally interesting about Gary's work is not only the way he fits the branches together in a mass to form these geometric shapes, but that there is an illusionary feature about them. His work alters your perception of what you see. You need to step back and take a second look at his work to get it, to see beyond the exterior shape and perceive the depth of their texture.
But, whatever you see in his work, one thing is abundantly clear. These sculptures are unique.
Today, he can be found working on commissions and new work in his studio in Loveland, Colorado or in the Rocky Mountains collecting logs and branches for his sculptures.
Gary's work can be found in commercial spaces throughout the U.S. and with private collectors around the world.
"The creation of something new is not accomplished by the intellect but by the play instinct acting from necessity. The creative mind plays with the objects it loves" (Carl Gustav Jung)
Resume
Group Exhibitions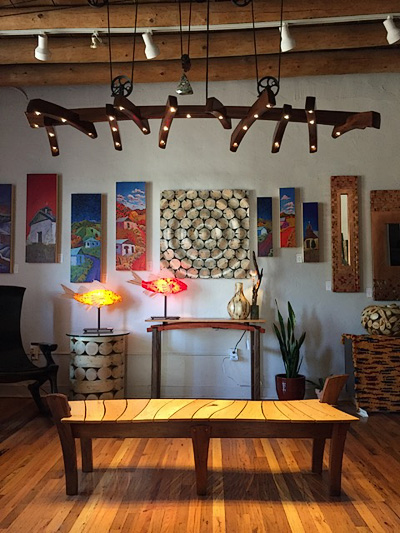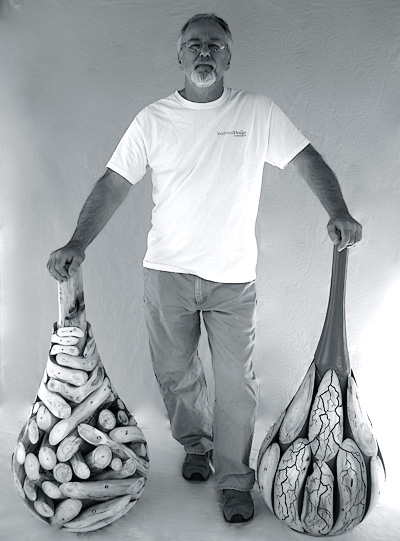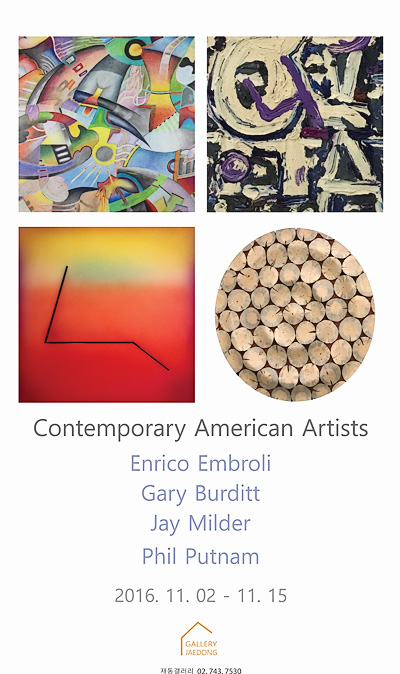 2017
Luca Decor Contemporary Art, Santa Fe, NM
2016
Luca Decor Contemporary Art, Santa Fe, NM
Spring Arts Festival, Santa FE, NM
Canyon Road Paint Out & Sculpt Out, Santa Fe, NM
2015
Luca Decor Contemporary Art, Canyon Road, Santa Fe, NM
Gallery V Fine Arts, Overland Park, KS
River Rustic Gallery, Fredericksburg, TX
Luca Decor Contemporary Art, Cherry Creek North, Denver, CO
Cherry Creek Arts Festival, Denver, CO
Vail Arts festival, Vail, CO
Downtown Denver Arts Festival, Denver, CO
Art on the Rockies, Edwards, CO
Downtown Aspen Art Festival, Aspen, CO
Beaver Creek Art Festival, Avon, CO
2014
Cherry Creek Art Festival's Art Denver, Denver, CO
Luca Decor Contemporary Art, Cherry Creek North, Denver, CO
River Rustic Gallery, Fredericksburg, TX
Gallery V Fine Arts Overland Park, KS
Osmosis Art & Architecture, Niwot, CO
Cherry Creek Arts Festival, Denver, CO
Art on the Rockies, Edwards, CO
Downtown Aspen Art Festival, Aspen, CO
Beaver Creek Art Festival, Avon, CO
Loveland Sculpture Invitational, Loveland, CO
5280 Home Celebration, Denver, CO
Downtown Denver Arts Festival, Denver, CO
Artist Assoc. of Northern CO Wood Turners & Carvers & Still Life
2013
Artist Assoc. of Northern Colorado National Art Exhibition
Loveland Sculpture Invitational, Loveland, CO
Commonwheel Fine Arts & Crafts Festival, Manitou Springs, CO
Loveland's Community Kitchen Silent Auction Benefit
Osmosis Art & Architecture, Niwot, CO
Stoneheart Gallery, Evergreen, CO
2012
Rist Canyon Fire Dept. Benefit, Ft. Collins, CO
Stoneheart Gallery, Evergreen, CO
2011
Stoneheart Gallery, Evergreen, CO
2010
Stoneheart Gallery, Evergreen, CO
2009
Stoneheart Gallery, Evergreen, CO
2008
Stoneheart Gallery, Evergreen, CO
Z Forrest Gallery, Tubac, AZ
2007
Stoneheart Gallery, Evergreen, CO
Z Forrest Gallery, Tubac, AZ
2006
Stoneheart Gallery, Evergreen, CO
Arabian Horse Show, Scottsdale, AZ
Downtown Denver Arts Festival, Denver, CO
Homestead Art Show, Loveland, CO
Z Forrest Gallery, Tubac, AZ
2005
Arabian Horse Show, Scottsdale, AZ
Western Design Conference, Cody, WY
Cowboy Christmas, Las Vegas, NV
July Arts Festival, Breckenridge, CO
Main Street Arts Festival, Breckinridge, CO
Z Forrest Gallery, Tubac, AZ
Southwest Design Conference, Santa Fe, NM
2004
Z Forrest Gallery, Tubac, AZ
Western Design Conference, Cody, WY
2003
Z Forrest Gallery, Tubac, AZ
Western Design Conference, Cody, WY
Sears Trostel Woodworking Show, Fort Collins, CO
2002
Windwood Gallery, Minturn, CO
Main St. Gallery, Timnath, CO
2001
Windwood Gallery, Minturn, CO
Sears Trostel Woodworking Show and Competition, Fort Collins, CO
International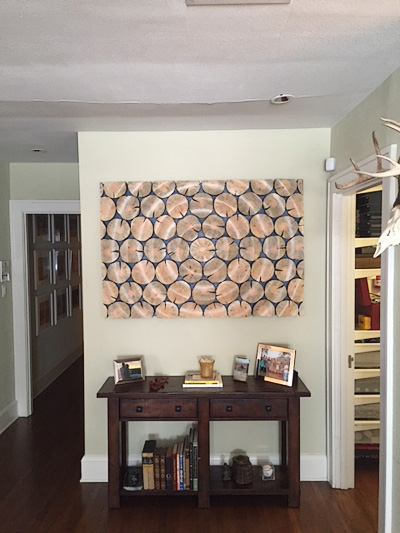 | | |
| --- | --- |
| 2016 | Gallery Jaedong, Seoul, South Korea |
Public
| | |
| --- | --- |
| 2015 | Office of Senator Michael Bennet, Washington, DC |
| 2013 | Office of Senator Michael Bennet, Washington, D.C. |
Commercial
| | |
| --- | --- |
| 2015 | Boettcher Foundation, Denver, CO |
| 2015 | J W Marriott, Cherry Creek, Denver, CO |
| 2015 | Arrow Electronics, Englewood, CO |
| 2014 | Jackson National Insurance, Lansing, MI |
| 2014 | Craig Hospital, Denver, CO |
| 2014 | Colorado Business Bank, Ft. Collins, CO |
| 2013 | Exempla Saint Joseph Hospital, Denver, CO |
Solo
| | |
| --- | --- |
| 2011 | Stoneheart Gallery, Evergreen, CO |
| 2007 | Z Forrest Gallery, Tubac, AZ |
Awards
| | |
| --- | --- |
| 2014 | Merit Award, Downtown Denver Arts Festival, Denver, CO |
| 2013 | First Place - Best of Media, Commonwheel Fine Arts & Crafts Festival, Manitou Springs, CO |
| 2013 | Second Place - Sears Trostel Woodworking Show & Competition, Ft. Collins, CO |
Publications
2016
Southwest Art Magazine - May
Southwest Art Magazine - July
Southwest Art Magazine - August
2016
Santa Fean magazine
2014
"Give the Gift of Art", Mountain Living
2014
"Give the Gift of Art", Colorado Homes & Lifestyles
2014
"Find Handmade Furniture and More at Art on the Rockies",The Vail Daily
2013
"Gary Burditt Crafts Art From Aspen Logs" Loveland Reporter Herald
2007
"Works Inspiration Comes Naturally" Denver Post
2005
"Western Design Conference Sourcebook"
2005
"Southwest Design Conference Sourcebook"
2004
"Western Design Conference Sourcebook"
2003
"Western Design Conference Sourcebook"
2003
"Woodworkers and Carvers Showcase Best" Loveland Reporter Herald
Education
Castleton State College, Castleton, VT
Front Range Community College, Ft. Collins, CO
Colorado State University, Ft. Collins, CO